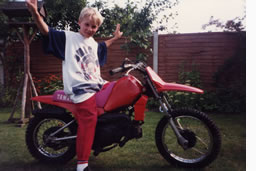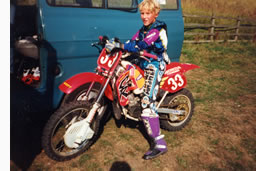 I didn't start as young as most racers but ever since I can remember there's been motorbikes in the family. My Dad has always had bikes and used to race himself. My first ride was on my brother James' Yamaha PW50 when I was 10. After that first taste of powered two wheeled fun I splashed out with the hard earned money I'd saved on a second hand PW80.
We had a dirt track around the back of the houses where we lived; it was there for access to the garages. James and I used to race each other up and down the track while my Dad worked on his race bike. He often had to come and scrape us up off the floor when we bashed into each other. It's where I learned to ride. When my Dad raced we used to throw the mini bikes in the back of the van and ride round the infield and at places like Oulton Park, we'd be off riding all day, using all his petrol!
When my Dad stopped racing I started motocross seriously. My first race bike was a crappy old Honda CR80R and it was hard to ride. I remember some big crashes, but loved racing. When I progressed I got a new Honda CR80R big wheel. This was a cracking bike and the first time out on it I won my first ever race - by over half a lap! I then went on to win every race that year, winning my club championship. The year after I raced in the 125cc under 16 Championship on a new Honda CR125R; I notched up first and seconds all year and won that championship too.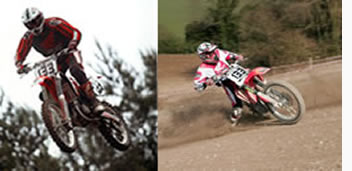 After a break, due to illness and lack of money, I returned to motocross on the CR125R and then soon after progressed to a Honda CR250R. I finished in the top 12 of the Matchams Winter Series against riders like Billy McKenzie, Glenn Philips and Phil Mercer on both 125cc and 250cc - learning a hell of a lot at the same time. During the summer seasons I raced in the United Motocross Series and finished in 11th place out of about 70 riders.
In 2007 I started road racing and competed in the Suzuki GSXR 600 Trophy Series. I completed my first season as Top Novice winning 4 top novice caps and finished 10th overall. After a year's experience on tarmac, gaining a lot of knowledge, I took part again in the GSXR Trophy again in 2008. This was a good year for me finishing in 3rd place overall after leading the championship half way through the season.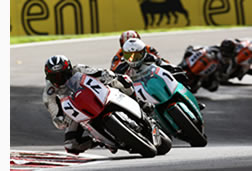 The next step up for me was the KTM RC8 Supercup in 2009; a one-make series that supported the British Superbike rounds in front of big crowds. The series was very exciting and I enjoyed it very much, but unfortunately I had a few problems with the bike throughout the year and a broken collar bone from a crash at Snetterton set me back mid-season. It all came good at the end of the championship though, especially at Cadwell Park when I received the accolade of 'Rider of the Meeting' with my best ever performance – just missing out on a podium finish.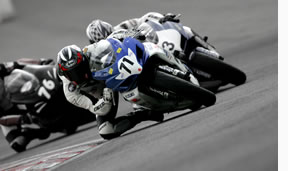 In 2010 and 2011, after competing in the KTM RC8 SuperCup, I was back on my Suzuki GSXR 600 (My old GSXR Trophy bike) racing in the MRO Stock Sport Rounds with Bemsee and ThundersportGB Superstock 600s. It was fast and furious!
Thanks to my good friends at Kais/Ohlins in Atherton, who helped me with a new suspension set-up, I was always up at the sharp end. Even though my bike wasn't as competitive on horsepower as some of the faster Kawasakis and Yamahas, I still managed a few wins.
After 2011 I took a break from racing due to a career change and heavy work commitments. Once I was settled, I started thinking about racing again and returned to the circuits in 2016 racing a Kawasaki ZX7-R in Golden Era Superbikes at Thundersport GB meetings. It was a hard year. I started off well at Brands Hatch and surprised myself with strong results against top riders like John Dieterman, Richard Steadman and Richard Blunt, racing with a standard engine I bought off ebay. I built a tuned engine later for the Snetterton round, but it failed in practice and because the rebuilt motor broke – going no further than the garage at home – I had to run that standard engine for the rest of the year. Having said that, I found myself in a good spot to finish a possible second place at Cadwell for the final round. Unfortunately, I never got to compete, as my gearbox gave up and smashed the engine in practice. Luck wasn't with me in 2016.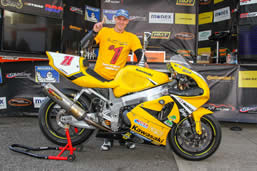 Looking forward to 2017 though, I was determined to win the Golden Era Superbike Championship. With a new, faster engine – big thanks to Wiseco, Race Winning Brands and Cradley Kawasaki for the parts – a bit more luck, hard work and a lot of help from friends and family, I made it to the top; I was crowned champion in October 2017 at Donington and I also hold the lap record for Mallory Park.
This year I am competing again on my Kawasaki ZX7-R, to try and retain my Golden Era title. I've learned such a lot riding this bike and my the lap-times have continued to get better. Times that I thought were not possible, are now becoming a reality on my time sheets. I hope they continue to improve this year.